Why should you choose to clean your roof? There are three major damaging effects of roof mold and mildew:
The life of your roof and shingles is shortened. Yet for a fraction of the cost of roof replacement, you can have your roof professionally cleaned.
The value of your home, your largest investment, is lessened, and if you're looking to sell your home soon, that can cost you at the closing table.
A dirty, black streaked roof can reduce the curb appeal of your beautiful home.
Don't let dirt get you down. AYS Exterior Cleaning can help with dirt, debris, stains, and other foreign contaminants that might be on your roof. We have the equipment to handle a variety of cleaning projects and needs for all types of roofing systems and materials. Our trained technicians use safe, effective cleaning solutions and techniques to prevent damage to your property while removing unwanted mold, mildew, and algae from your roof. We also clean gutters.
Clean gutters is one of the best ways to prevent water damage as well as mold and mildew from forming in your roofing structure. Our technicians make sure to clean up your gutters to keep your roofing system working at it's peak and help to preserve the service life of your roofing materials.
Let us help answer your questions. Contact AYS Exterior Cleaning today and let us tell you more about the process and get you set up with a service appointment.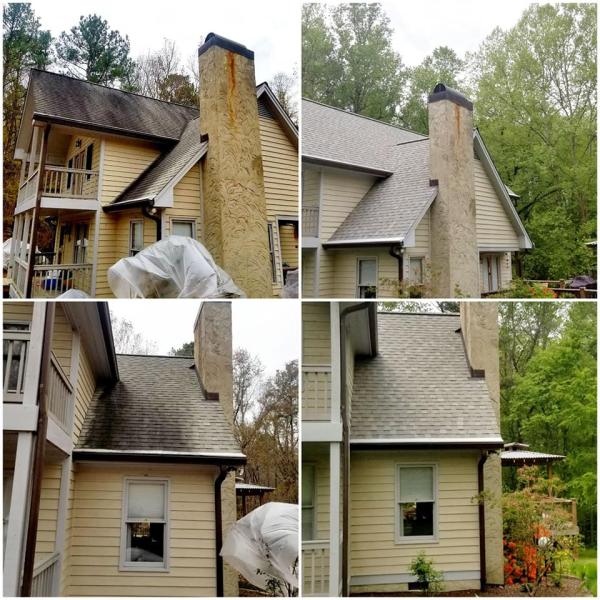 One of the most important questions we get from clients regarding roof washing is what is our process? Simply put, we soft wash your roof just as we do your home. The soft wash system uses the same amount of pressure as your garden hose without a nozzle attached, it is the safest way to wash all of your home's surfaces.
If the pressure is so low, how does it clean? Our specially formulated cleaning solvent is the muscle and does all the heavy lifting for us. We use a biodegradable chemical to safely and effectively remove all black streaks and lichen, this looks like moss growing from underneath your shingles.
How do we prepare your property for roof washing? We start by assessing your roof, ensuring there aren't any weak spots, possible leaks, or missing shingles. Once the roof has passed inspection, all vegetation against your home are carefully covered, downspouts are capped off & any trees or vegetation that cannot feasibly be covered are saturated with water. This is to protect from any overspray that may occur.
AYS Exterior Cleaning is trained by the industry's best according to manufacturer's specifications. We have invested our time and resources to ensure we care for your property as though it were our own. We are backed by the RCIA, Roof Cleaners Institute of America.
How often should you wash your roof? Roof washing isn't a service we recommend on a schedule or as a maintenance service, rather to be completed once black streaks are noticed. It takes years for streaks to develop and it will be years before they reappear. However, AYS stands by our work. If there is anything we missed, we will make it right. Additionally, we offer a 5 year pro-rated warranty.
What else should you consider when washing your roof? Several things need consideration, such as:
Is the company you hire fully insured specifically for roof work? AYS Exterior Cleaning is fully insured to wash roofs as well as the rest of your properties, be it your primary home, vacation home on the water (we use enviromentally friendly products) or your commercial property, we can clean it all!
What is their process & what equipment do they use? If someone shows up with a powerwasher or surface cleaner to wash your roof, run them away! This is the fastest way to ruin your shingles and void the warranty on them.